Professional Kitchen Remodels at an Affordable Price
At Bath & Kitchen Experts we are a full-service kitchen design and remodeling contractor known in the Chicago area for innovative, functional and quality service since 2001.
We always put our customers first, so you can rest assured that we'll work closely with you to do what's right for you based on your space, budget, intended use, and design goals.
Let's get started on your dream today!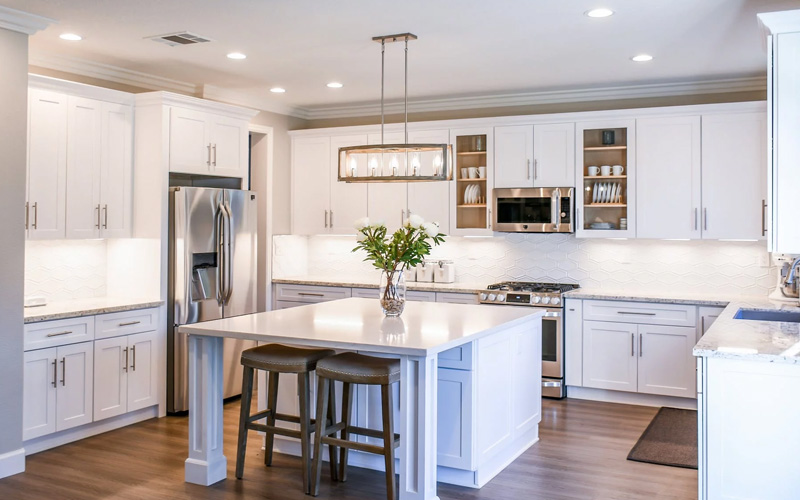 Your custom kitchen design will be unique and special
Whether your personal style is traditional, transitional or contemporary, whether your project is large or small, our passion is to bring your hopes and dreams to life with art-inspired beauty and function.
Count on our kitchen remodeling team to turn your kitchen into a room you and your family will enjoy.
GET FREE ESTIMATE
The goal is to get all of these aspects to work as one, thus creating the perfect kitchen.
Bath and Kitchen Experts only uses premium home improvement products
SERVING GREATER CHICAGO NORTHWEST SUBURBS
With our experience, you can expect a hassle-free kitchen remodeling experience from start to finish.
We'll deliver your dream kitchen as cost-effectively as possible!
OUR KITCHEN REMODELING PROCESS
We provide free in home design consultations.
We also offer unique kitchen design idea's, an estimate based on your budget
Our comprehensive preconstruction service offers an informed and comprehensive plan that will save you time and money.
Our highly-skilled designers can help you visualize your kitchen project with a computer-generated 3D rendering of your finished design.
ESTIMATING
We go above and beyond industry standards to offer an open-book approach to estimating.
This ensures that you'll get the highest quality materials from known and trusted brands at the lowest prices
QUALITY CONTROL
We offer a comprehensive plan for quality control on every project.
We are dedicated to ensuring that our construction and performance is in accordance with your goals
WARRANTY SUPPORT
We offer a one-year warranty on all our kitchen remodeling work.
SAFETY
We are uncompromising in our commitment to the health and safety of our employees, customers, and community.
FROM OUR KITCHEN REMODELING PORTFOLIO